Digital Agency – Employees want to be active in their work, have a positive attitude toward their employer, and feel like they belong. In addition, they are looking for emotional connection that tends to influence their behaviors and level of effort in work-related activities. As a result, employee engagement affects every critical aspect of an organization, including profitability, revenue, customer experience, employee turnover, and so on.
As employees who feel connected to their companies work harder, stay longer, and motivate others to do the same, you might wonder how you can secure employee engagement in your digital agency.
To help you add value to your employees and deliver instant gratification for their contributions, take a look at our five initiatives.
Reactivate Engagement with Creative and Personal Gifts
Celebrating work anniversaries is one of the best ways to foster employee loyalty and engagement while showing how much you care. As employees are constantly evaluating their tenure at your agency, especially during special times like this, it is crucial to get them excited about their big day.
However, as talents today want instant gratification and creativity to feel special and appreciated, keep in mind to opt for original work anniversary gift ideas that speak to them. From giving a unique gift and featuring them online to throwing a party or an extra day off, work anniversaries allow your employees to reminisce about good times. So, remind them what they love about your company.
Employ Technology to Nurture Engagement
Technology plays a vital role in assisting organizations in nurturing an engaged workforce through proper planning and automation. Employee engagement software enables employers to appreciate and reward the best performers, deliver the best benefits, and measure the program's effectiveness with detailed analytics.
Moreover, it is an excellent tool for instilling purpose, ensuring open communication, employee recognition, gathering and enacting feedback, and crafting a great employee experience. When choosing this type of technology, look for the following main features:
Daily engagement with employees,
Goal setting and tracking,
Performance evaluation,
Employee training tools,
Survey and feedback options,
Employee recognition, and
Collaborative spaces.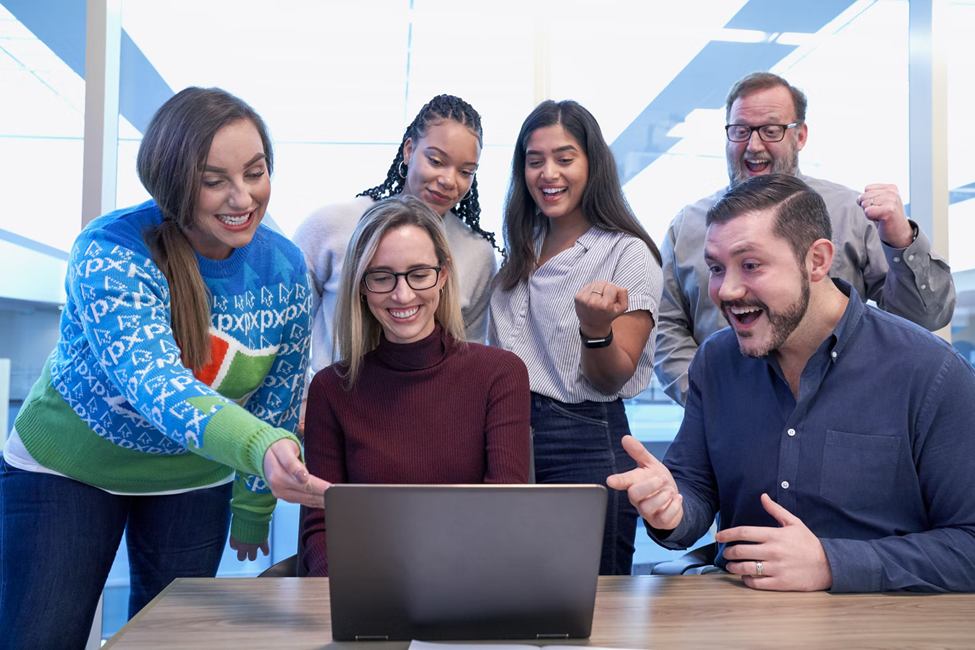 Use Communication to improve Employee Engagement
When communication is smooth and appropriate, employees find it easier to identify themselves with the company's vision, values, and goals. They are then enthusiastic about doing better and becoming more engaged in every aspect of their jobs.
So, encouraging proper communication between your team can build a strong bond between your agency and employees. To achieve that:
Develop clear internal communication lines and effectively execute the strategy.
Encourage open lines of communication between employees.
Promote better organization transparency through communication.
Communicate business plans and strategies to the team.
Use a workforce communication platform to target, personalize, and measure internal communications and channels.
Opt for Development-Focused Engagement Initiatives
Employees want to know they have access to formal and informal opportunities within their organizations. Moreover, they want their leaders and managers to be invested in their professional development. That is why development is a critical driver of employee engagement. There are three ways you can go about this. First, consider implementing an employee mentoring system that matches senior team members with less experienced staff. It is an excellent way to promote collaboration and personal growth.
Another option is to offer personal coaching. Give your employees the chance to select their coach for either personal or professional development. Ensure there is an allocated budget and a set number of sessions covered by the company. Finally, create a system for employee-led teaching programs. Encourage employees to learn from each other. Let them teach classes and workshops that range from extracurricular skills to those that are essential to their roles. This system is the perfect way to foster collaboration and team support.
Put Employee well-being in Focus and offer better Work-Life Balance
Healthy and fit employees are more productive and take less time off. That also means saving your business time and money. So, implement schemes that encourage employees' physical and mental well-being both inside and outside of the workplace.
For example, introduce initiatives that include regular health clinics, cycle to work schemes, mental health resources, mandatory lunch breaks, free healthy snacks, etc. In addition, to prevent burnout, help employees struggling to juggle work and family. Workplace practices you can adopt include offering flexible and remote working, encouraging your managers to focus on productivity rather than hours, regularly reviewing workloads, leading by example, giving your employees time to volunteer, and finally, increasing support for parents.
Conclusion
Employee engagement helps companies increase productivity, work quality, and talent retention. To boost your digital agency employee engagement, use the ideas above. Nevertheless, remember that employee engagement is not a static process. Instead, it is an ongoing one that should evolve as your workforce changes or the popularity of specific initiatives wanes.